DIPSOL'S innovative edge in surface treatment & electroplating meets customer's requirement in high quality products and services; at the same time providing leverage in caring for a friendly environment by adopting the usage of environmental friendly materials and practices.


Brief History

1982 Dipsol established in Malaysia.

1983 Set-up of electroplating lines

1988 Upgrade from manual operation to automatic machine.

1990 Move into HDD industries.

1997 Set-up Factory 2.

1999 ISO 9001:2000 accredited

2002 MS ISO 14001:1997 accredited

March 2004 company name changed to Dipsol (M) Sdn Bhd

2006 Factory-2 Expansion

2007 Set Up Electroless Nickel + Tin Plating Line
Construct 3rd Building in Factory 2

2008 Set Up Teflon Coating Line

2010 Set Up Vapor Degreasing Line Construct Waste Water Treatment-3

2011 Set Up Hard Chrome, EN-PTFE Composite and Special Spray Coating Line

2012 Construct 4th Building and new Chemical Store in Factory 2

2013 Set Up Zinc Nickel Alloy Plating Line and Copper Nickel Chrome Plating Line

2014 Office/Administration Staff move to Factory 2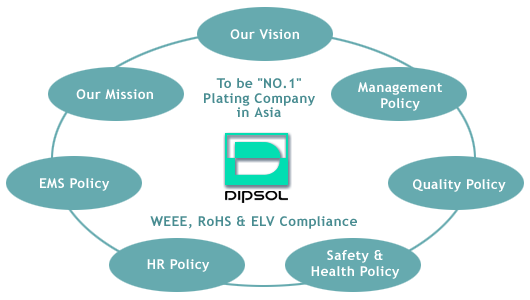 Our Vision
To pursue high quality production, to supply top quality products and services as well as emphasizing on constant research and development to upgrade efficiency and productivity.
Our Mission
LEADER IN SURFACE TREATMENT TECHNOLOGY
Management Policy
DIPSOL has its own management commitment and shall:
Steadily grow and be a pioneer manufacturer in the development of advanced technology of surface treatment in Asia.

Challenge customers requirement aggressively in terms of Quality, Cost, Delivery and Technology.

Constinuously make its own technological development to meet its customers' satisfaction in terms of quality.

Take full responsibility in developing the skill and knowledge of its employees as we are committed in people oriented policy.
Quality Policy
Our Quality Motto… CUSTOMER SATISFACTION
Our fundamental corporate objective is aspire to:
Be a Malaysian company specializing in "Electroplating & Metal Surface Treatment" services.

Meet customers' satisfaction by providing quality services, prompt delivery and competitive prices.

Use good quality equipment and have stringent quality control system to ensure quality product.

Constantly work to develop the skill of our employees, and allowing them to develop and grow with the company thus contributing to the Malaysian society.

To maintain and continuosly improving the Quality Management System that meeting ISO: 9001:2008 Standard.

To have continual improvement activities to improve quality & productivity.
EMS Policy…
Our Environmental Motto… ENVIRONMENTAL FRIENDLY
Employ the latest state of the art technology, which has minimal impact to the environmental.

Consistently meet or exceed Malaysian Environmental Laws, Regulations and other requirements.

Always strive for continual improvement of our environment performance by adopting MS ISO 14001 Environmental Management System.

Committed to prevention of pollution such as resource conservation, energy conservation and waste reduction in every area of our business activities

Ensure the system is consistently implemented by providing appropriate environmental awareness training and education to all employees.

Make available to employees, customers, suppliers and the public relevant information to enable them to understand and share our environmentally-conscious commitment.
Safety & Health Policy…
Our Safety & Health Motto… SAFETY IS EVERYBODY'S BUSINESS
as to achieve ZERO Accident rates
Ensuring the relevant Occupational Safety & Health education and awareness is provided to all employees

Ensuring that safe and healthy working environment is well maintained and risk free.

Providing adequate safety equipment and Personal Protective Equipment (PPE) at workplace.

Ensuring that employees observe and adhere to the safety rules and regulations.
HR Policy…
Our HR Motto... TOGETHER WE WORK IN HARMONY
We strive to create more value in human capital, to have transparency in all our dealings, just and fair practices with the ultimate aim to improve our employees' livelihood and thus contributing to social prosperity.
To Plan Carefully and Meticulously

To Act Quickly Without Fear or Favour

To Inculcate Discipline and Integrity